Photo Gallery - Mt Diablo
---
Mt Diablo Lookout
Up atop Mt Diablo is a general observatory. This structure is built "on top" of Mt Diablo. Literally. As you walk inside the building, a section of the floor is cutaway to reveal the actual mountain top. The building is split level and houses a general information center which includes multimedia presentations that cover the history of the mountain and its wildlife. The mountain top can be reached via a well maintained (but very winding) road. The road leads to an upper and lower parking lot at the summit. Below is a view of the mountain top observatory as taken from the upper parking lot.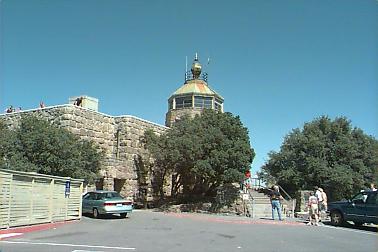 The observatory is multi-level. At the top level is a open deck complete with resonably high powered telescopes for use by the public.
Finally, a shot of the observatory as seen from the lower parking level. Some general communications equipment and the main road can be seen.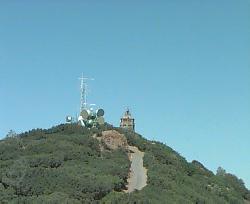 ---

---
Last updated: Sunday, June 23, 1996 by Mick, VK2XOC .